Diskusprolaps er en ret almindelig tilstand. Det anslås, at omkring fire procent af den danske befolkning får smerter fra diskusprolaps, på et eller andet tidspunkt i livet. I denne artikel kan du læse mere om discusprolaps, som kan være en af årsagerne til ondt i ryggen.
Her kan du læse om:
Årsager til diskusprolaps
Symptomer på diskusprolaps
Behandling af prolaps
Gode råd om diskusprolaps

Stort set alle oplever på et tidspunkt at have ondt i ryggen
Generelt er rygsmerter meget normale og stort set alle har oplevet at have ondt i ryggen. Der findes forskellige årsager til, at du får ondt i ryggen. I de allerfleste tilfælde er rygsmerterne ufarlige og går i sig selv igen efter noget tid.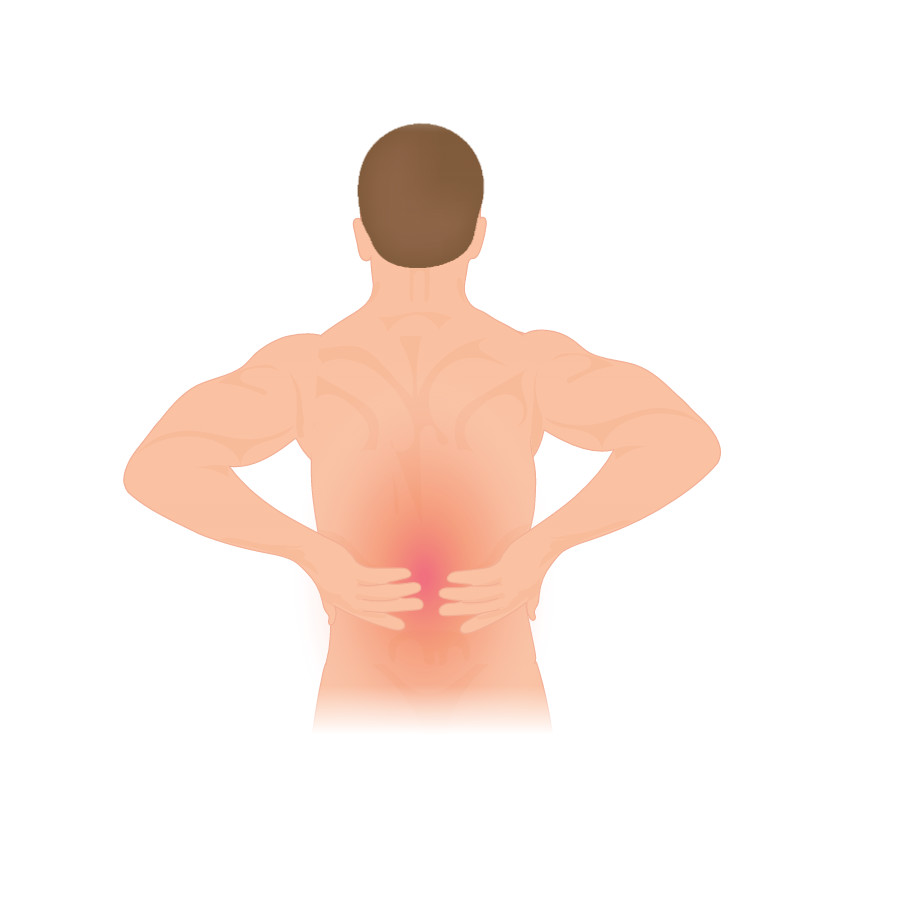 Illustration fra www.injurymap.com
Hvad er en diskusprolaps og hvordan opstår den?
Rygsøjlen er bygget op af 24 ryghvirvler (7 nakkehvirvler, 12 brysthvirvler og 5 lændehvirvler).
Mellem ryghvirvlerne er der bruskskiver, også kaldet diskusskiver. Diskus har en blød kerne, omringet af en stærkere bindevævsring. En prolaps opstår, når der kommer en bristning i bindevævs-ringen, hvilket tillader den bløde gelemasse i kernen at pose ud i rygmarvskanalen. Inde i rygmarvskanalen løber dine nerver. I nogle tilfælde, kan udposningen af gelemassen medføre tryk på nerven og give symptomer i benet. Sidder prolapsen i nakken, kan det give symptomer i armen.
Diskusprolaps kan opstå i ryggen og nakken
Diskusprolaps opstår hyppigst i lænderyggen, men kan også forekomme i nakken og i sjældne tilfælde i brystryggen. Diskusprolaps regnes for en degenerativ ryglidelse og denne proces starter, når du er relativt ung. Degeneration er ikke nødvendigvis smertefuldt, de fleste røntgen- og scanningsbilleder vil vise degenerative forandringer, såvel hos både mennesker med og uden rygsmerter, når du når en vis alder.
Hvad kan være årsag til en diskusprolaps?
Genetik har en stor betydning for disposition for diskusprolaps og er associeret med op til 6 gange højere forekomst. Rygbelastende arbejde, herunder uhensigtsmæssige eller ubekvemme arbejdsstillinger i længere tid ad gangen, er kun associeret med 2 gange højere forekomst. Overvægt kan også være en medvirkende faktor for en højere risiko for at udvikle diskusprolaps.
Her kan du se en video, der illustrerer en diskusprolaps i lænderyggen: Video om diskusprolaps
Hvad er symptomerne på en diskusprolaps?
En diskusprolaps kan være smertefri og i nogle tilfælde opdages den tilfældig ved scanningsundersøgelser. Det kræver i de fleste tilfælde ingen behandling. Trykker prolapsen på en nerve, kan der være smerter i benet eller armen. Derudover kan der være ændret følesans på huden, og nedsat styrke i benet eller armen. Der er ikke nødvendigvis smerter i selve ryggen eller nakken.
Hvilke symptomer skal du være særlig opmærksom på?
Oplever du ét eller flere af nedenstående symptomer på diskusprolaps, skal du kontakte din læge med det samme:
Markant styrkenedsættelse i ét eller begge ben, hvor det er vanskeligt at stå på hæle og/eller tæer.
Manglende eller nedsat kontrol over vandladning, afføring og/eller seksuel dysfunktion.
Ændret følesans i "ridebukseområdet", det vil sige omkring endetarmsåbningen og kønsorganerne.
Hvordan behandles en diskusprolaps?
I de langt de fleste tilfælde kan en diskusprolaps behandles med aflastning, træning samt smertestillende medicin. Det er det, der betegnes som konservativ behandling af diskusprolaps. Undersøgelser viser, at det kun er 10%, der har brug for operation.
Det er normalt, at behandlingsforløbet efter en diskusprolaps strækker sig over flere uger, hvor dit smerteniveau vil variere.
Vælger du et behandlingsforløb hos en fysioterapeut, vil du få en grundig undersøgelse, forklaring af dit problem, samt øvelser tilpasset netop dig og det stadie hvor du er.
Det vigtig at understrege, at øget smerteniveau ikke er ensbetydende med, at prolapsen er forværret.
Gode råd til dig, der har fået konstateret en diskusprolaps
1. Hold dig aktiv og lyt til kroppen. Sundhedsstyrelsen fraråder sengeleje - hold dig så aktiv, som smerterne tillader det. Aktivitet er vigtig for blodforsyningen i ryggen og vil stimulere helingsprocessen.
2. Smerterne lindres når trykket på nerven mindskes, f.eks. når du ligger ned. Sidder prolapsen i lænden, vil du ofte finde lindring ved at ligge med benene oppe, sideliggende med bøjede knæ eller fremliggende, med en pude under maven.
3. Tilknytning til arbejdsmarkedet har vist sig at være en vigtig faktor i rehabiliteringsforløbet efter en diskusprolaps. Så snart smerterne tillader det, anbefales det, at du starter op på arbejde igen, evt. på nedsat tid i starten og med variation i arbejdsopgaver samt skiftende arbejdsstillinger.
4. Tag smertestillende medicin i samråd med din læge. Det er vigtig for at få en god nattesøvn, kunne holde dig i aktivitet og undgå at dit funktionsniveau forringes mere end højst nødvendigt.